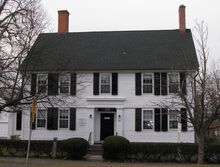 Thomas Hart Hooker (September 3, 1745 - November 26, 1775) was the owner of the Sarah Whitman Hooker House and a soldier in the American Revolutionary War. He was the great-great-grandson of Thomas Hooker, the original settler of Hartford. He was also the grandfather of Henry Talcott, a prominent citizen of West Hartford.
He was born on September 3, 1745 in Farmington, Connecticut as the son of Roger Hooker and Anna Kellogg. He grew up in Farmington and removed to a home he built in 1770 after his marriage a year prior. In the spring of 1773, he and his wife bought in West Hartford the Sarah Whitman Hooker house, which had been known as the "Mills Place," situated on the south side of New Britain Avenue. Two years later, in May 1775, aroused by the Battle of Lexington at the outbreak of the American Revolution, Thomas was one of the first to enlist in the American army against Great Britain. He joined the army near Boston, where he served for several months. He had signed a Deed of Manumission, respecting his then-slave Bristow, which became effective in early May 1775. The Deed set him as a free man.
On November 26, 1775, Hooker died of pleurisy while camping with Revolutionary forces in Massachusetts.
Family
[
]
Hooker married Sarah Whitman on February 1, 1769. The couple moved to West Hartford, Connecticut, four years later.
Abigail Hooker - m. Samuel Talcott
Thomas Hart Hooker, Jr. - m. Betsey Mills