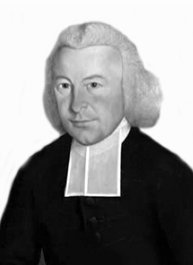 Solomon Stoddard (September 27, 1643 - February 11, 1729) was the pastor of the Congregationalist Church in Northampton, Massachusetts Bay Colony. He succeeded Rev. Eleazer Mather and later married his widow around 1670. Stoddard significantly liberalized church policy while promoting more power for the clergy, decrying drinking and extravagance, and urging the preaching of hellfire and the Judgment. The major religious leader of what was then the frontier, he was concerned with the lives and souls of second-generation Puritans.
Stoddard was born on September 27, 1643 in Boston, Massachusetts as the son of Anthony Stoddard and Mary Downing, born into the highest stratum of aristocratic New England. He graduated from Harvard College in 1662 and served as chaplain in Barbados from 1667 to 1669. He was called to Northampton to succeed Rev. Eleazer Mather in 1670. He was a champion of the "Half-Way Covenant," a means by which children of members could be baptized and remain as half-members until they were able to demonstrate religious conversion. By 1677, he was no longer recording whether parishioners were full members or half-members, thereby opening the privileges of membership, including citizenship. In 1684, he built a house on Round Hill at the site of what is now "The Manse," which replaced Stoddard's house in 1744.
Stoddard died in Northampton, Massachusetts on February 11, 1729.
Family
[
]
Stoddard married Esther Warham around 1670, the widow of Rev. Eleazer Mather.
Mary Stoddard - m. Stephen Mix
Esther Stoddard - m. Timothy Edwards
Christian Stoddard - m. William Williams
Anthony Stoddard - m. (1) Prudence Welles (2) Mary Sherman
John Stoddard - m. Prudence Chester
Rebekah Stoddard - m. Joseph Hawley
Hannah Stoddard - m. William Williams