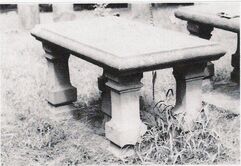 Samuel Hooker (1633 - November 6, 1697) was the second minister of Farmington, Connecticut.
Hooker was born in 1633 in Cambridge, Massachusetts, as the son of Thomas Hooker and Susanna Garbrand. He entered Harvard College in 1651, and graduated in 1653. He entered the ministry in 1657 and preached at Plymouth, Massachusetts, though probably not regularly settled there. He was invited to settle at Springfield, Massachusetts, but declined the invitation and remained at Plymouth until he removed to Farmington, Connecticut, in 1661, where he succeeded his brother-in-law, Roger Newton, and became the second minister of the place and remained there until his death in 1697.
He was famous as an eloquent preacher and Cotton Mather says of him, "Thus we have to this day among us our dead Hooker, yet living in his worthy son Samuel Hooker, an able, faithful, useful minister at Farmington, in the Colony of Connecticut." He occupied at Farmington the parsonage which had been occupied by his predecessor, Newton, on the east side of South Main Street and nearly opposite to the road going to the meadows across the stone bridge which spanned the Pequabuck River. He remained in a home near this site until his death.
Hooker died at Farmington, Connecticut, on November 6, 1697.
Family
[
]
Hooker married Mary Willet on September 22, 1658. The marriage was undoubtedly celebrated in a proper manner, for an account of it is handed down in the Willet family, concluding the ceremony with, "And Samuel and Mary did then brew a great bowl of punch."
Thomas Hooker - m. Mary Smith
John Hooker - m. Abigail Stanley
James Hooker - m. Mary Leete
Nathaniel Hooker - m. Mary Stanley
Mary Hooker - m. James Pierpont
Daniel Hooker - m. Sarah Stanley
Sarah Hooker - m. Stephen Buckingham
William Hooker - m. Susannah
Roger Hooker - unmarried.
Hezekiah Hooker - died young.