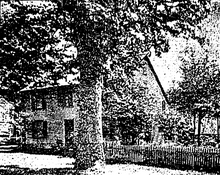 Moses Goodwin (March 5, 1759 - January 12, 1839) was a veteran of the American Revolution and a resident of Windsor, Connecticut.
Goodwin was born on March 5, 1759 in Hartford, Connecticut, as the son of William Goodwin and Margaret Cook. He grew up in the Hartford area and fought in the American Revolution as a "Revolutionary patriot." He was evidently a militiaman, perhaps a drummer or fifer - besides an insignia in his homestead on Windsor Avenue in northern Hartford that read "1st com, 1st Reg," there were drumsticks and an ancient-looking fife.
After the war ended in 1783, he became a farmer, residing on the Windsor road in the house that was later occupied by his daughter, Margaret. The old house was full of memories of olden times. In the little shed near the house, there was a cider mill where the juice of the apple was squeezed out and where later a large part of it was distilled into elder brandy, then a popular drink among those who drank hard liquor even moderately. Here the winter work was done, which included the handmaking of shingles and other things - in fact, all sorts of woodwork was done there. The spinning wheel was also kept busy, with all wearing apparel spun from flax on the old wheel.
On January 12, 1839, Goodwin died at the age of 79 in Windsor, Connecticut.
Family
[
]
Goodwin married Mary Ann Burnham on January 26, 1786.
Asa Goodwin - m. Parthenia Rogers
Edward Goodwin - m. (1) Sarah Mills (2) Lois Mehetable Pelton
Ephraim Goodwin - unmarried.
Ralph Goodwin - m. Mary Griffin Speare
William Goodwin - m. Marilla Sykes
Margaret Ann Goodwin - unmarried.
Abigail Goodwin - died young.