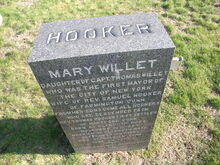 Mary Willet (November 10, 1637 - June 24, 1712) was a resident of Plymouth, Massachusetts, and Farmington and Norwalk, Connecticut.
Willet was born on November 10, 1637, at Plymouth, Massachusetts, as the daughter of Capt. Thomas Willet and Mary Brown. Her father was at the time an energetic and thriving merchant at Plymouth, who succeeded Capt. Miles Standish in command of the famous military company of Plymouth, and he afterward became the first mayor of New York City. After her joyous wedding in 1658, the couple removed to Farmington, Connecticut, where they lived for many years. After the death of her first husband, she married again in 1703 at the age of 66. After his death in 1709, she went to the home of her son-in-law (and the son of her late husband), where she remained at Norwalk, Connecticut.
Willet died in Norwalk, Connecticut, on June 24, 1712. Her grave is near the center of the old burying ground, near the East Norwalk railway station.
Family
[
]
Willet married first to Samuel Hooker on September 22, 1658. The marriage was undoubtedly celebrated in a proper manner, for an account of it is handed down in the Willet family, concluding the ceremony with, "And Samuel and Mary did then brew a great bowl of punch."
Thomas Hooker - m. Mary Smith
Samuel Hooker - m. Mehetable Hamlin
William Hooker - m. Susannah Lastname
John Hooker - m. Abigail Stanley
James Hooker - m. Mary Leete
Nathaniel Hooker - m. Mary Stanley
Mary Hooker - m. James Pierpont
Daniel Hooker - m. Sarah Stanley
Sarah Hooker - m. Stephen Buckingham
Roger Hooker - unmarried.
Hezekiah Hooker - died young.
Willet married second to Rev. Thomas Buckingham on August 10, 1703. He died on April 1, 1709.