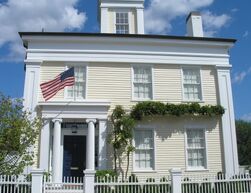 Gurdon Trumbull (January 21, 1790 - October 8, 1875) was a merchant in Stonington, Connecticut, and one of the volunteers who defended the town against the British during the War of 1812.
Trumbull was born on January 21, 1790 in Norwich, Connecticut as the son of John Trumbull. After his father's death, he removed, with an elder brother, to Stonington, Connecticut, where he lived for nearly fifty years. In August 1814, he was one of the little band of volunteers who successfully defended the town against a British squadron commanded by Sir Thomas Hardy. Engaging in business soon after the War of 1812, he had an active agency in developing the two branches of industry - the seal and whale fisheries - in which Stonington became distinguished, and which for many years brought large returns to her citizens. He declined an offered nomination to Congress from the third district in 1844; was a representative in the general assembly in 1840, 1848, and 1851; bank commissioner in 1839-40; was appointed commissioner of the school fund in 1848; and resigned in 1850. For thirty years, he was identified with every local enterprise in the town. He was the first to propose and an original director of the Stonington and Providence railroad - the first link of the Shore LIne from New York to Boston, and the second railroad chartered by Connecticut.
In 1852, Trumbull removed to Hartford, where he was alderman of his ward and served as one of the judges of the city court in 1854 and 1855. He was a member and for several years one of the vice presidents of the Connecticut Historical Society.
Family
[
]
Trumbull married Sarah A. Swan on May 1, 1817 in Stonington, Connecticut.