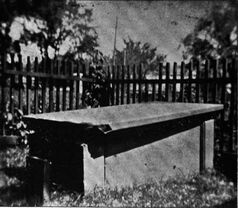 Giles Hamlin (1622 - September 1, 1689) was a Captain and New England mariner.
Hamlin was born around 1622 in England. He settled in Middletown, Connecticut, as early as 1654, and resided there the remainder of his life. With his wife, he became a member of the first church established there. He was admitted to the church on November 15, 1668. "He was a puritan, a man of good sense, and soon gained a high standing for probity and ability." He was long engaged in foreign commerce, partly on his own account. He was long honored with public offices and his descendants retained a remarkable degree of influence in public affairs. His home lot in Middletown, on the east side of Main Street, extended to Court Street. He purchased a house and ten acre lot on the southwest corner of Main and Washington Streets in 1679, which became the family homestead for four generations. He commanded multiple ships in the 1660s and 1670s.
On September 1, 1689, Hamlin died of an epidemic that was noted by the General Court from Middletown.
Family
[
]
Hamlin married Esther Crow in 1655.
Hester Hamlin - m. William Southmayd
John Hamlin - m. (1) Mary Collins (2) Sarah Bull
Mary Hamlin - m. Noadiah Russell
William Hamlin - m. Susannah Collins
Giles Hamlin, Jr. - unmarried.
Richard Hamlin