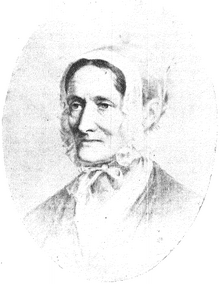 Electa Woodbridge (January 2, 1781 - October 12, 1853) was a resident of South Manchester, Connecticut.
Woodbridge was born on January 2, 1781 in East Hartford, Connecticut. Her father kept a tavern there, where she was born, and removed to another tavern standing on Manchester Green. Her mother was of nervous temperament, and subject to fits of melancholy, which kept her sometimes for weeks from her duties in the family. Thus, during her early age, she had to take care of the household. Through this, she developed the self-reliance and capacity for work, which distinguished her in her later life. While she was living at the tavern, George Washington, then President, made a journey to New England on horseback, and passed through Manchester on his way to Providence, Rhode Island. As the party halted at the little tavern, the young girl ran out to see them, and Washington asked her to bring him a glass of water - a service which she always remembered with pleasure.
On October 12, 1853, Woodbridge died in South Manchester, Connecticut, after raising a large family.
Family
[
]
Woodbridge married George Cheney on October 18, 1798.
George Wells Cheney - m. Mary Cheney
Charles Cheney - m. (1) Waitstill Dexter Shaw (2) Harriet Bowen
Ralph Cheney - m. Jerusha Drake Goodwin
Seth Wells Cheney - m. (1) Emily Woodbridge Pitkin (2) Ednah Dow Littlehale
Rush Cheney - m. Julia Ann Goodwin
Frank Cheney - m. Susan Jarvis Cushing
Electa Cheney - m. Richard Goodman
John Cheney - unmarried.
Ward Cheney - unmarried.