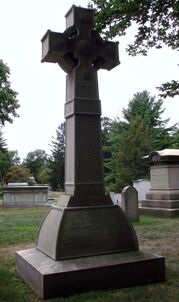 Cyprian Nichols Beach (September 9, 1828 - February 8, 1887) was a coal businessman in Philadelphia, Pennsylvania, and an associate in Hartford, Connecticut.
Beach was born in Hartford, Connecticut on September 9, 1828, as the son of George Beach and Maria Nichols. He was educated in Hartford and was for a time educated in the Trinity college class of 1848, although he did not graduate. Most of his life was spent in Philadelphia, Pennsylvania, as a merchant in the coal business there. He worked as a coal businessman for many years and retired from the active business life in the 1870s. Since his retirement, he and his family divided their time between Newport, Rhode Island, where they had their summer home, Hartford, Connecticut, and the continent of Europe. Most of their winters were spent abroad.
While he was not technically a resident of Hartford, he held large interests in Hartford concerns and had invested considerable sums of money to aid lines of business that promised to be of benefit to the city. He was a considerable shareholder in the Broad Brook Company, the Phoenix Insurance Company, and others.
On the first of January in 1887, he sailed for Europe with his wife and daughter to spend the winter in Nice, France. In early February, he fell ill and his condition was so critical that his brother set out for London, sailing from New York. On February 8, 1887, Beach died in London, England.
Family
[
]
Beach married first to Helen Tyler.
Beach married second to Hettie Hart Jarvis in 1867.