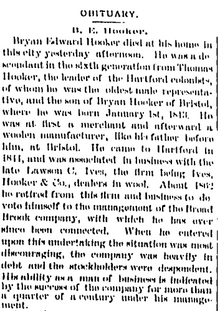 Bryan Edward Hooker (January 1, 1813 - December 10, 1888) was a wool merchant and manufacturer in Hartford, Connecticut.
Hooker was born on January 1, 1813 in Bristol, Connecticut as the son ofBryan Hooker and Nancy Lee. He grew up in Bristol and removed to Hartford, Connecticut in 1844. There, he became a wool merchant and manufacturer at Hartford. He was associated in business with Ives, Hooker & Company, which became a well-established wool-house in Hartford. Around 1862, he retired from the firm and business to manage the Broad Brook company, which had he been connected with until his death. When he entered upon this undertaking, the situation was most discouraging, as the company was heavily in debt and the stockholders were despondent. His ability as a man of business is indicated by the succes of the company for more than a quarter of a century under his management.
In November 1888, he was struck by an illness; however, he still left his bed to go to the polls at the presidential election. He never left his home after that as a mild attack of pneumonia followed. He died on December 10, 1888. His obituary in the Hartford Courantends with: "Hartford had no better man."
Family
[
]
Hooker married first to Maria Robbins Williams in 1834. She died in February 1860.
Mary Williams Hooker - m. Joseph Gurley Woodward
Ellen Frances Hooker
Hooker married second to Martha Huntington Williams on May 14, 1862.
Edward Williams Hooker - m. Mary Mather Turner
Thomas William Hooker - m. Loua Catherine Bedell
Robert Huntington Hooker - died young.