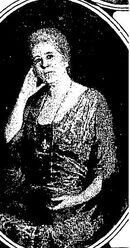 Annie Eliot Trumbull (March 2, 1857 - December 22, 1949) was a novelist, poet, and playwright in Hartford, Connecticut. Her life was linked with Hartford's literary Golden Age.
Trumbull was born on March 2, 1857 in Hartford, Connecticut, as the daughter of James Hammond Trumbull and Sarah Robinson. When she was five years old, her parents moved to the brick residence where she lived, when not traveling, for the rest of her life. At a young age, she began writing and crafted many short stories for magazines, such as Scribner's, the Atlantic, the Outlook, New England Magazine, and Lippincott's. Contemporaries remembered her as the belle of Hartford. They also recalled that she played tennis on a court in the front yard and started a fashion for archery. Her first published story appeared in Harper's Bazaar in 1881; her first full-length book in 1889. She was also the last of the circle which intimately knew Mark Twain and Charles Dudley Warner.
Trumbull resigned in 1946 after 21 years as a director of the Hartford Public Library, in whose program she was keenly interested. She also resigned from office in the Mark Twain Library and Memorial COmmission. She was also the first president of the Town and County Club, and she at one time headed the Women's Republican Club of Hartford.
On December 22, 1949, Trumull died at her home at 734 Asylum Avenue, Hartford, at the age of 92.