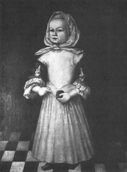 Alice Mason (June 26, 1668 - aft. 1725) was a resident of Rowley, Massachusetts, and Woodbridge, New Jersey.
Mason was born on June 26, 1668 near Boston, Massachusetts, as the daughter of Arthur Mason and Joanna Parker. After her marriage in 1698, she settled in Woodbridge, New Jersey, with her husband in 1702 to start a family. She died sometime after 1725.
Family
[
]
Mason married Samuel Shepard on July 14, 1698.